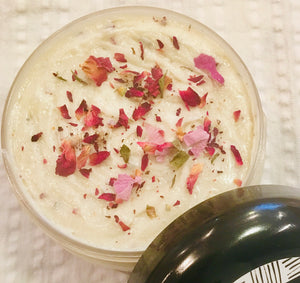 Use our Revitalizing Shea-based exfoliator to reveal softer, smoother skin! Sea salt contains minerals that replenish your body while the essential oil blend boosts your mood and energizes your spirits! The aroma is invigorating, uplifting and floral with soft citrus notes. Size is 8 oz. 
Ingredients: Mediterranean Sea salt; Epsom salt, organic baking soda; organic, unrefined Shea butter and Shea oil; unrefined, virgin coconut oil; all natural, therapeutic grade essential oils of geranium, orange, jasmine, rose, peppermint, ylang ylang, and neroli; vitamin E; organic, dried rose petals.
Directions: Massage the exfoliating scrub onto wet skin in circular motions. Rinse thoroughly and follow with our complementing, super hydrating, Revitalizing Hair & Body Butter or Hair & Body Oil to lock in moisture and extend the benefits of the essential oils.
Avoid using an exfoliating scrub on broken or irritated skin.
If you are pregnant, nursing, or have a medical condition, please consult your healthcare provider before using.

This product contains a citrus essential oil. Caution should be taken with prolonged sun exposure as photo-sensitivity could occur.